This is a brief blog about affiliate marketing and how it could be an opportunity for you to add another income stream to increase your earning potential.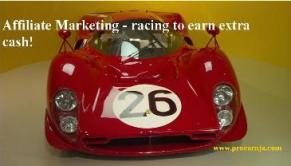 Affiliate marketing is when you promote other people's products or services and in return earn a commission for any sales generated as a result of your efforts. Here you the affiliate are paid based on your performance.
Advertisers will provide various links, banners and texts which contain your unique referral id for use in your promotions. This is so that they can track any leads you generate toward a sale. This is accomplished through 'cookies'. Now cookies work with web browsers and they are used to store information such as user preferences, login information including the date and time a click is made on any of your links or ads.
So how can you get into affiliate marketing? First you need to find products or services to promote. You can try to sell digital or physical goods. Digital products can easily be downloaded; they are limited to books and software and generate small commissions. Physical products on the other hand have endless choices, are usually more expensive and yield higher commissions.
Where can you find affiliate programs? There are some popular ones you may be familiar with such as Ebay, Amazon Associates, Clickbank, Commission Junction, Linkshare, and Plimus. Simply create an account and start searching for products to sell by finding partners and getting your affiliate links.
How do you promote your links?
1. You could create a webpage with brief descriptions of all of your affiliate programs along with your affiliate links accompanying it.
2. Start a blog. Write about something in the field of what you are promoting and display your affiliate products/links.
3. If you are familiar with the product you are promoting, write a blog about it and share your knowledge. Recommend it to your audience and include your link.
4. If you don't have a website or blog, you can promote your affiliate links using pay- per- click (PPC ) or pay-per-action (PPA) advertisements.
5. Use Facebook and other social media to share your links.
6. Try referral marketing, using word of mouth to recommend products and services to customers and contacts. I also use this offline to generate sales and have seen great results.
What do you think? Could affiliate marketing be your ticket to earning additional income?
About the Author: Mevonnie Hugh is an affiliate marketer/independent business owner who promotes business opportunities & healthy living both online and offline. Learn about some of the other opportunities at http://www.proearnja.com ;

Categories: Sales & Marketing